Reading Time:
3
min
Data-driven destinations are the near future of tourism management, and in some regions, they are already present in terms of tourism management and development. These are destinations that systematically monitor the main indicators that influence and sometimes determine travelers' choices, the composition, preferences, and behavior of the visitors themselves.
As already mentioned, starting from the initiative of the World Economic Forum to strengthen the city's leadership in the use of artificial intelligence and new technologies, regions, and cities have been called to improve services and liveability for those who live there, citizens or visiting tourists.
Some territories/destinations immediately understood the scope and opportunity of these tools and technologies. They accelerated their adoption because, even if setting up the system might be challenging, making management choices based on data, especially in complex organizations, allows wise investments and less risky decisions.
To concretely understand the most effective choices and strategies of leading data-driven destinations, The Data Appeal Company launched a series of specific video interviews with representatives of various international organizations and DMOs.
Data-driven destinations: South Australia
In the first episode of Data-Driven Destinations Mirko Lalli interviewed Janice Kurrle, Marketing Manager of the South Australia Tourism Commission for the UK and Western European markets (France, Germany, Italy).
South Australia is a top-rated international destination for those unfamiliar with it, both for Europeans and Americans. A somewhat and decidedly exotic destination for all tastes, which comprises 12 autonomous regions and includes famous wine destinations such as the Barossa and Clare Valley or the Flinders Ranges in the interior. A paradise for food and wine lovers, outdoor activities, and obviously stunning landscapes characterized by exceptional native fauna and flora.
In August 2019, the SATC launched the South Australian Visitor Economy Sector Plan 2030, an evolution of a tourism program drawn up for the tourism development of the previous decade.
In this plan, the organization recognizes tourism as an important driver of the state economy. Money flows to local communities and positively impacts other sectors such as agriculture, wine, retail, education, real estate, and transport. Therefore, the SATC is committed to growing the tourism economy to reach $ 12.8 billion by 2030 and generate another 16,000 jobs.
To achieve its 2030 goals, the program will be data-driven and focus on six priority areas: marketing, experience and supply development, collaboration, industry capacity, events, and promoting the value of tourism.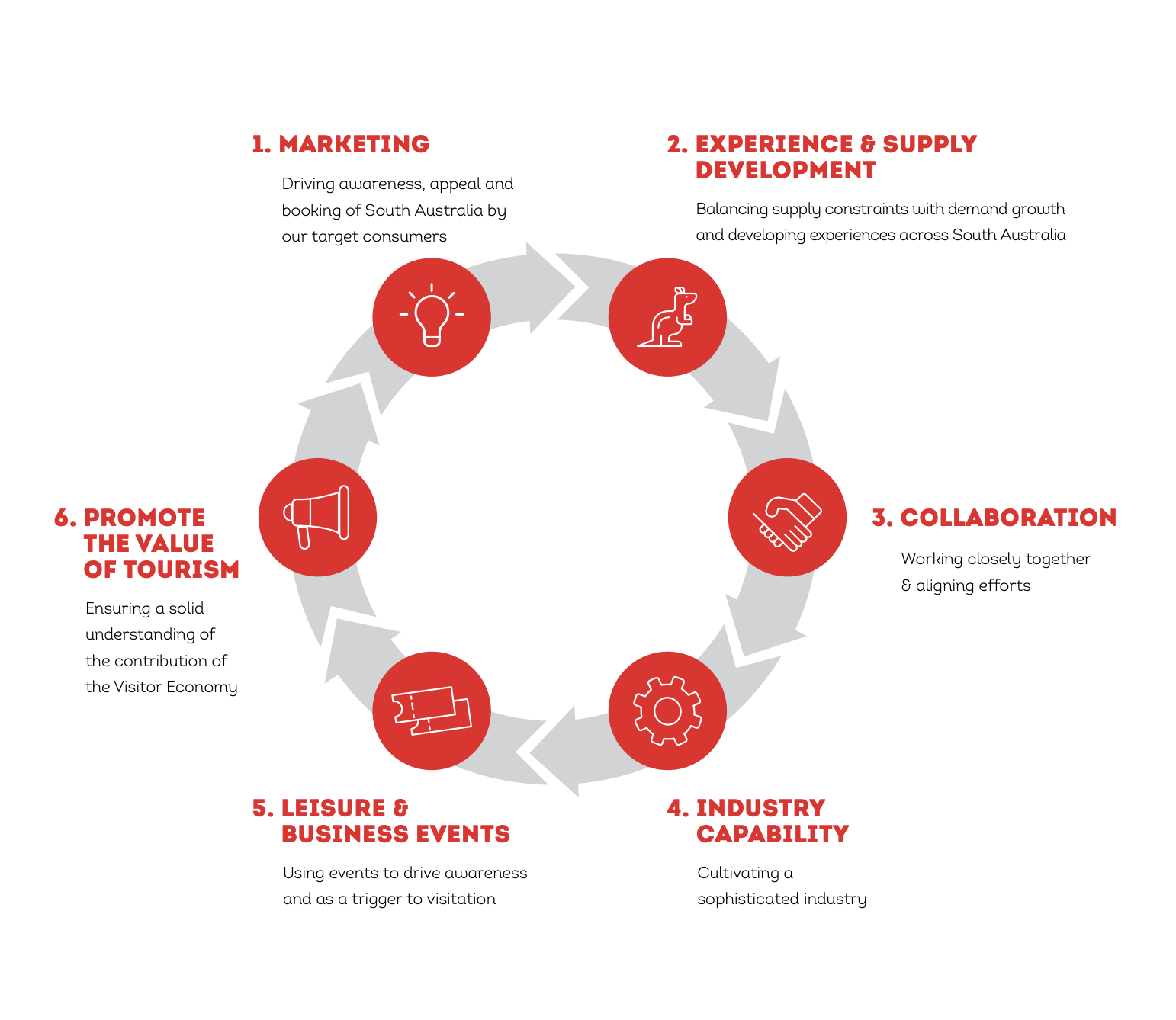 During the interview, Janice Kurrle illustrated the data-driven approach to tourism promotion in South Australia, which is already at a very advanced level.
"Data is an integral part of our business planning for the whole year. Since we don't have huge budgets to spend on promotion, we need to take a targeted approach.

We use a wide range of data and check it regularly. For example, we use Adobe Analytics, to compare the data year over year, analyze the interests and reasons why visitors come to Australia, and from this data, we can elaborate insights.

We also rely heavily on the data provided to us by Tourism Australia, the national tourism board: the board launched a consumer demand project in 2012 to understand in detail how consumers globally view Australia, what are their motivations for travel, what they expect to find in Australia compared to other destinations.

In this way, we have a very detailed profile of each visitor in 11/12 key markets for our destination (e.g., England, France, and Italy). We can really go deep into each market and adapt our marketing strategies accordingly.

We really have a lot of data at our fingertips to make informed decisions and decide where to invest the budget, such as paid search, social, native advertising, etc. "
The full interview:
P.S. The South Australian Visitor Economy Sector Plan 2030 recognizes that all tourism activity and development takes place on lands traditionally inhabited by Aboriginal peoples, without whose presence and active participation the plan will not be successful. This, too, is tourism sustainability!
Main photo: Granite Island, © Hadija Saidi on Unsplash