Reading Time:
7
min
Many of us hoped to end the year with Covid-19 behind us. The discovery of an effective vaccine seemed like such a powerful weapon that it spread hope to everyone around the world. However, despite continued distancing, protection measures and sanitization policies, the Covid-19 pandemic will, yet again, ring in the new year with us. 
The inconsistent global distribution of vaccines and the resistance against immunization have dulled our glimmer of hope. Now, more than ever, the contagiousness of new variants has us continually preparing for the worst. 
With our finger on the pulse about new measures and statistics surrounding this viral attack, we've put together an end-of-year report from a tourism perspective.
% population with complete vaccination cycle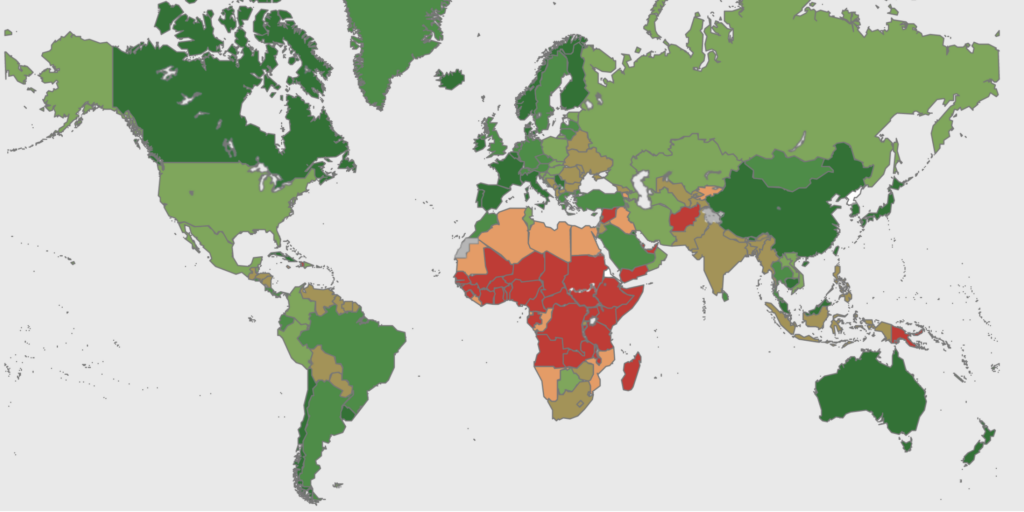 People who died because o Covid19 in the last 7 days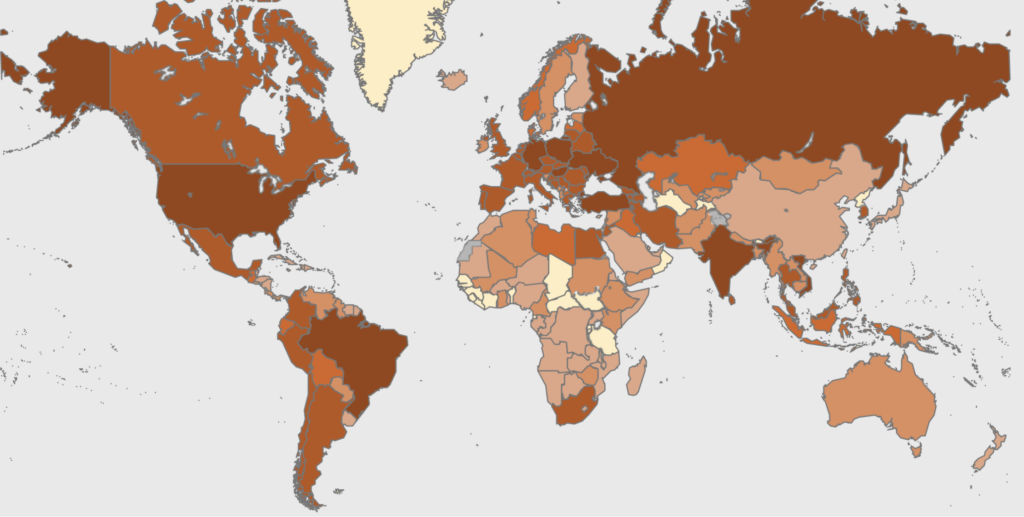 Source: WHO (updated December 17, 2021)
Throughout this year, global tourism licked its wounds from a catastrophic 2020. In fact, international flows in 2021 will close near 2020 levels (around -75% compared to 2019). On a positive note, from an economic point of view, we're slightly better off. Overall spending is around 40% of the pre-pandemic period. 
Nevertheless, the coronavirus crisis is not over yet. In their November update, the UNWTO reveals that their current Travel Barometer follows suit with 2020. Yet, the average expenditure per international trip has increased from approximately $1,000 in 2019 to $1,300 in 2020 and over $1,500 in 2021.
They conclude their predictions with some somber news. Next year's economic outlook is not exactly comforting, with estimates of more than 100 million tourism industry jobs at risk, especially in the areas most affected by restrictions.
Variation in international arrivals

Source: proprietary elaboration of UNWTO data
Tourism across Italy in 2021
While the official ISTAT data doesn't go beyond August 2021, we rely on The Data Appeal Company's data analysis and insights through a selection of extractions from Data Appeal Studio. This territory intelligence platform is utilized by the Italian National Tourism Board and many destinations across Europe. 
Despite ongoing restrictions, 2021 tourism in Italy records a net increase compared to 2020. The border opening in May not only brought a steady flow of visitors in late-spring, but also into the summer season. Thanks to the immunization campaign and Green Pass initiatives, Italy once again peaked in domestic and international tourism. 
Volume comparison 2021 (blue) – 2020 (orange) – source: The Data Appeal Company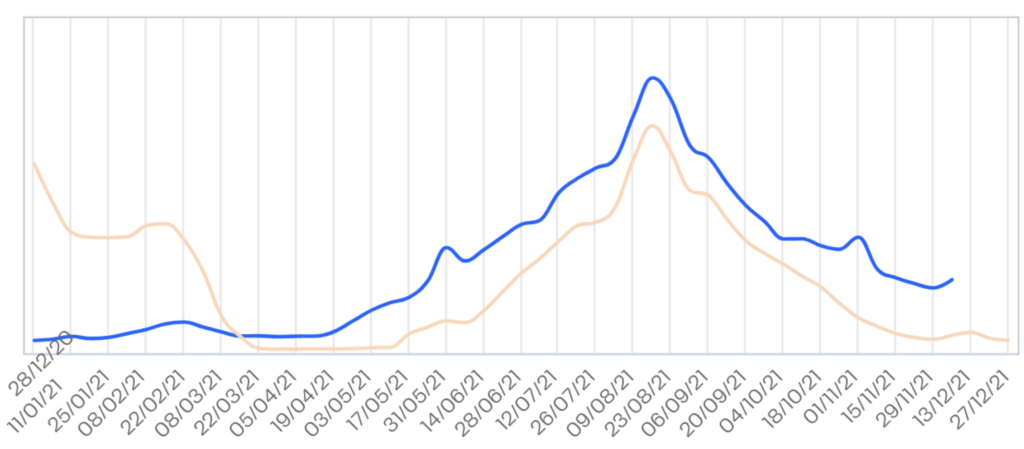 At no point in 2021 were pre-pandemic levels reached. However, from the second half of the year until now, the gap to 2019 has been steadily narrowing, making it particularly important to maintain this trend as we head into 2022.
Volume comparison 2021 (blue) – 2019 (orange) – source: The Data Appeal Company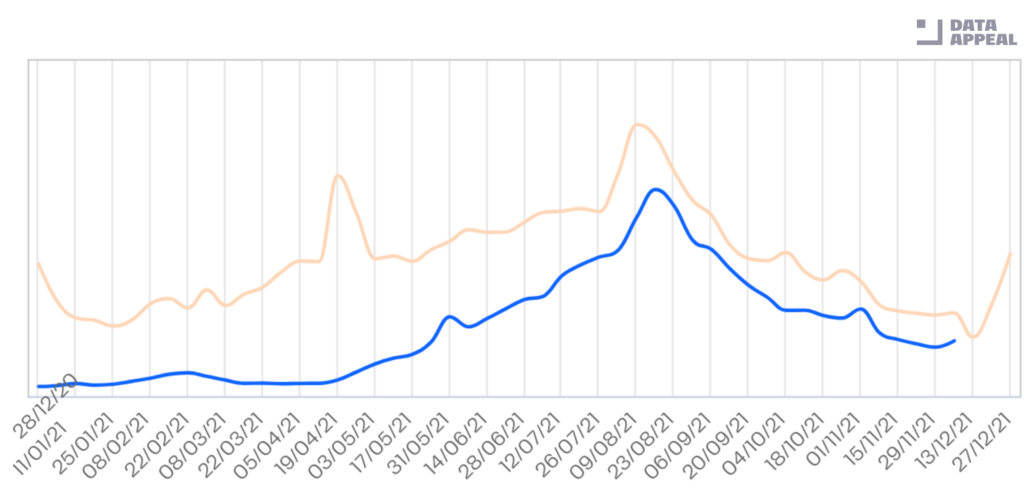 Leveraging Data Appeal Studio, we highlight the various trends of 2020, categorized by destination type. 
During 2021,

lakeside and seaside destinations

have managed to recover, and in some cases even exceed pre-pandemic levels. This was seen particularly in destinations that really focused on the theme of

outdoor tourism. 

We witnessed a similar trend pattern for

mountain destinations

. The major difference; however, was that

these areas suffered the worst winter season in their history

. As a result, they

recorded negative annual numbers

, even though the summer was particularly propitious.

Cities of art and culture

are still struggling, decimated by the

restrictions on international, long-haul tourism and the lack of business travel

. While international, long-haul tourism will bounce back, the state of business travel looks grim as many question if it's really worthwhile meeting in person rather than on a virtual platform.
Volume comparison 2021 (blue) – 2019 (orange) for different kind of Italian territories: lake; seaside; mountain; cultural city – source: The Data Appeal Company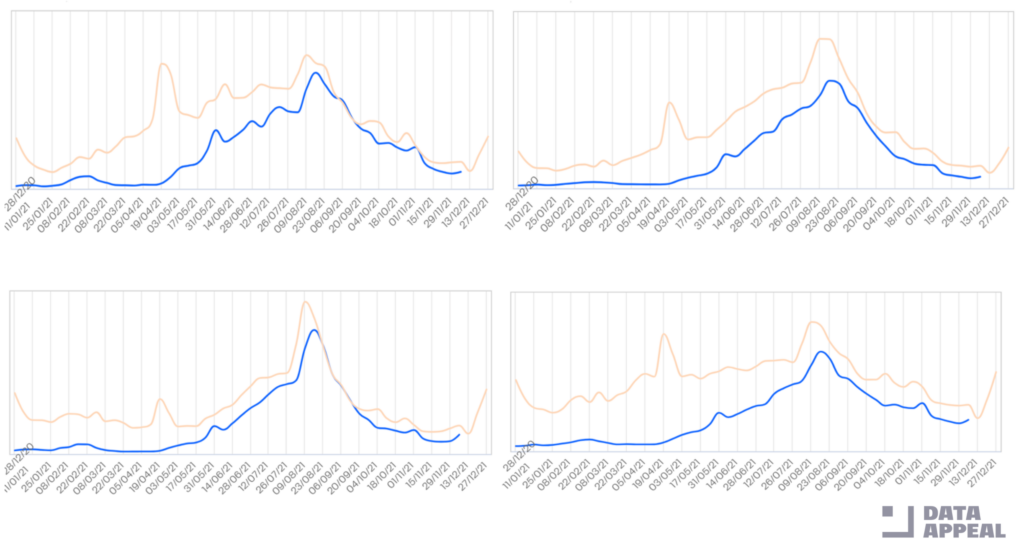 Although the vast majority of travelers across Italy are domestic, the recovery of international tourism was evident in 2021, making up 65.2% of the total share this year compared to 58.8% in 2020. 
The top source markets include many central European countries,  which, with exception of Germany, saw a sharp decrease last year. The Anglo-Saxon market remains very fragile, partly due to the dynamics surrounding pandemic management. Long-haul travel is still off the radar, with only the United States showing some timid signs of international travel.  
Another major trend we've witnessed is the decline of group travel. In fact, couples and families made up the vast majority of traveler types this year, likely due to their greater independence managing any unforeseen events or restrictions.
Comparison top countries of origin 2021 (blue) – 2019 (orange) – source: The Data Appeal Company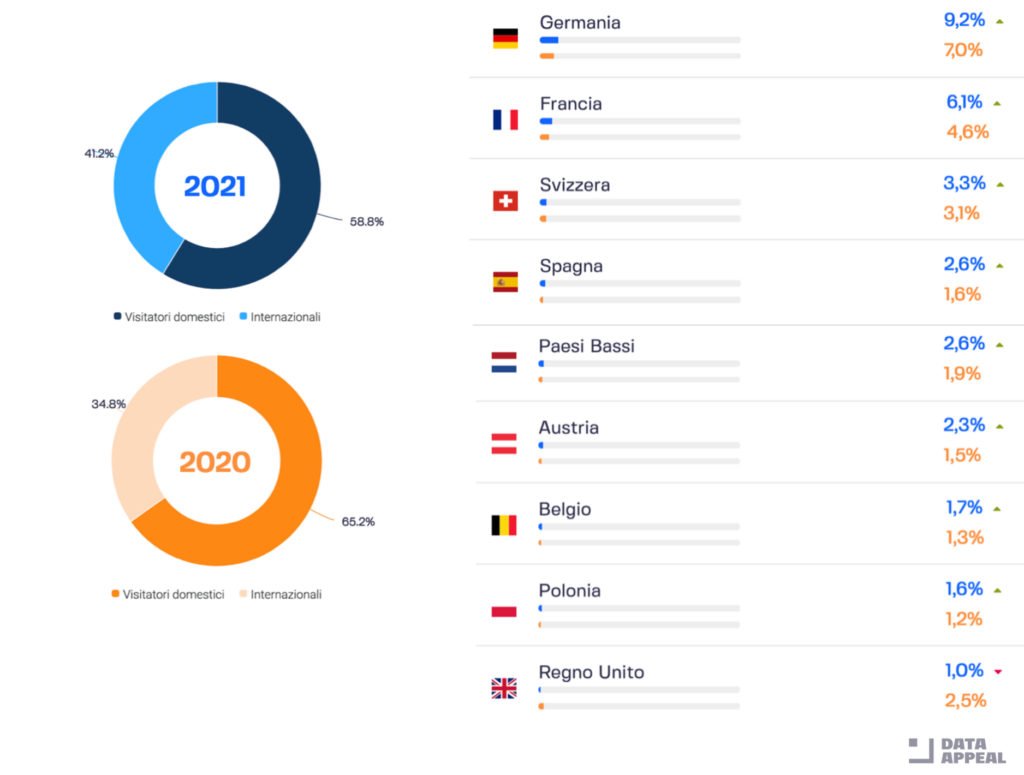 When looking at European destinations, Italy emerges slightly stronger than its closest competitors, mainly France and Spain, which in the past received a decidedly greater number of international flows. Moreover, Italy recorded a higher Sentiment score than France and Spain – 87.9 compared to 84.6 and 87.2 respectively. 
Volume Comparison Italy 2021 (blue) – France 2021 (orange on the left) / Italy 2021 – Spain 2021 (orange on the right) – source: The Data Appeal Company

Comparison 2021 sentiment Italy vs France and Spain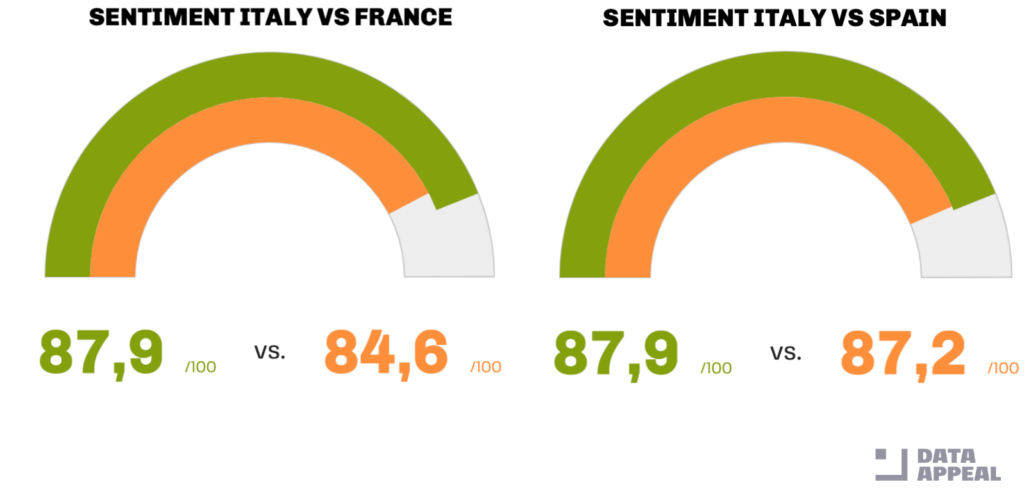 Throughout the Sentiment analysis, the flagship of The Data Appeal Company, the strengths and weaknesses across Italian hospitality and tourism emerge. 
In a period marked by uncertainty, travelers want to feel safe, secure and relaxed more than anything. In fact, the friendliness of staff across hotels, restaurants and attractions has become a major factor for an operator's success and competitive advantage.
Moreover, the themes of food and wine remain very strong; however, they are not always perceived as having an adequate quality-price ratio. 
Additionally, our analysis detected that there's room for improvement across hotel rooms and building infrastructure, despite many related investments in recent years.
The Outlook for 2022
When constructing a data-driven outlook for tourism in 2022, we've included four main indicators: Sentiment Score, Hotel Rates, Travel Barometer and Flight searches and bookings. 
As the Bank of Italy revealed in their Tourism in Italy: numbers and development potential publication, "traveler reviews and online sentiment have an unprecedented impact on tourism trends that will materialize in the future".
Comparison of Sentiment Score Italy 2021 (green) – Italy 2020 (orange)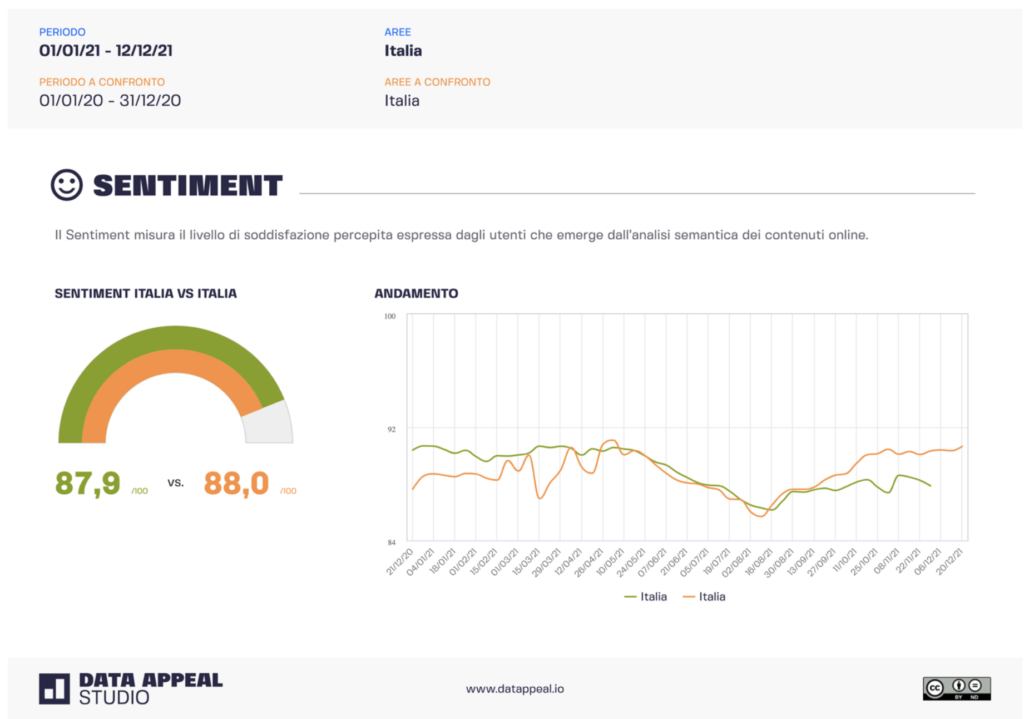 As already seen, the Sentiment Score across Italy and major European countries is quite good, especially when compared against competitor destinations.  However, what should raise an alarm is the current figure, which is a couple of percentage points lower compared to the same period last year. 
It's important to note, especially for local operators, maximizing occupancy rates should never be at the expense of customer satisfaction. In fact, it's from a positive experience that future tourist flows are associated. It's critical that fostering a positive experience, leading to a positive reputation and perception, should be a constant activity and primary objective of both destinations and the businesses operating within them.
The second pillar is accomodation rates and prices. Monitoring OTAs (i.e. Booking.com, Expedia, etc.) for the upcoming six months shows us a clear picture of how much operators are betting on 2022. Not only is the average price steadily rising over the next few months, but the overall price level is about 9% higher than in 2021. 
Italy Rates and Offers – coming months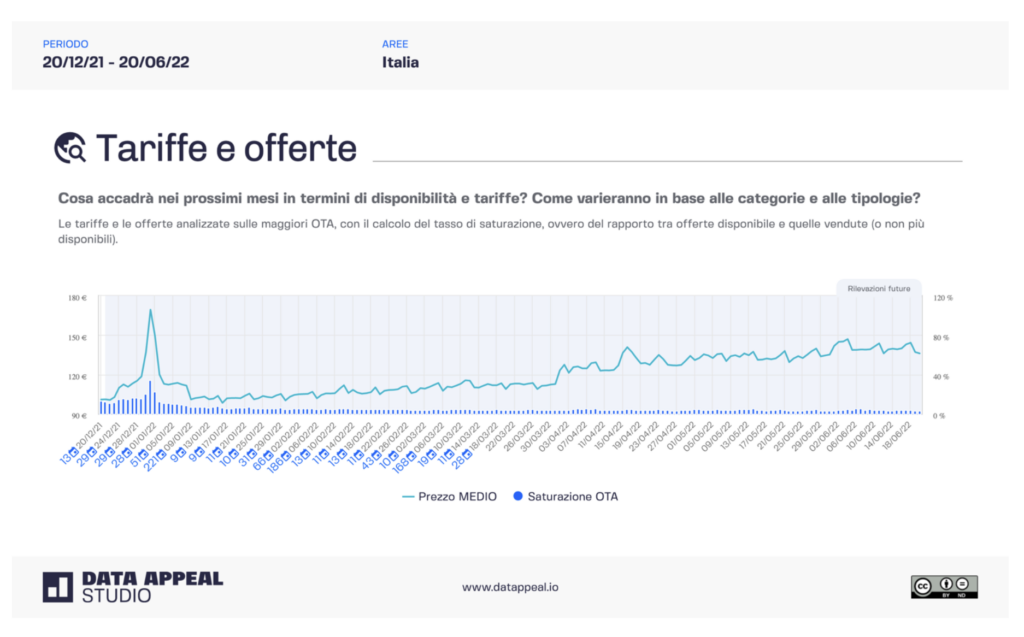 From New Year's Eve onwards, when the price peak is recorded, the hospitality industry across Italy is waiting with open arms to welcome visitors.  
However, the newest Covid-19 restrictions hit Europe like a cold shower. The latest OTA surveys show price values declining (red). Yet on this front, Italy has an undisputed advantage over its European competitors. In fact, there are many destinations that have already implemented strict restrictions and new lockdowns in response to a very serious situation. 

The third pillar is the Travel Barometer, a multi-dimensional, forward-looking index developed to measure the wellbeing of the tourism industry.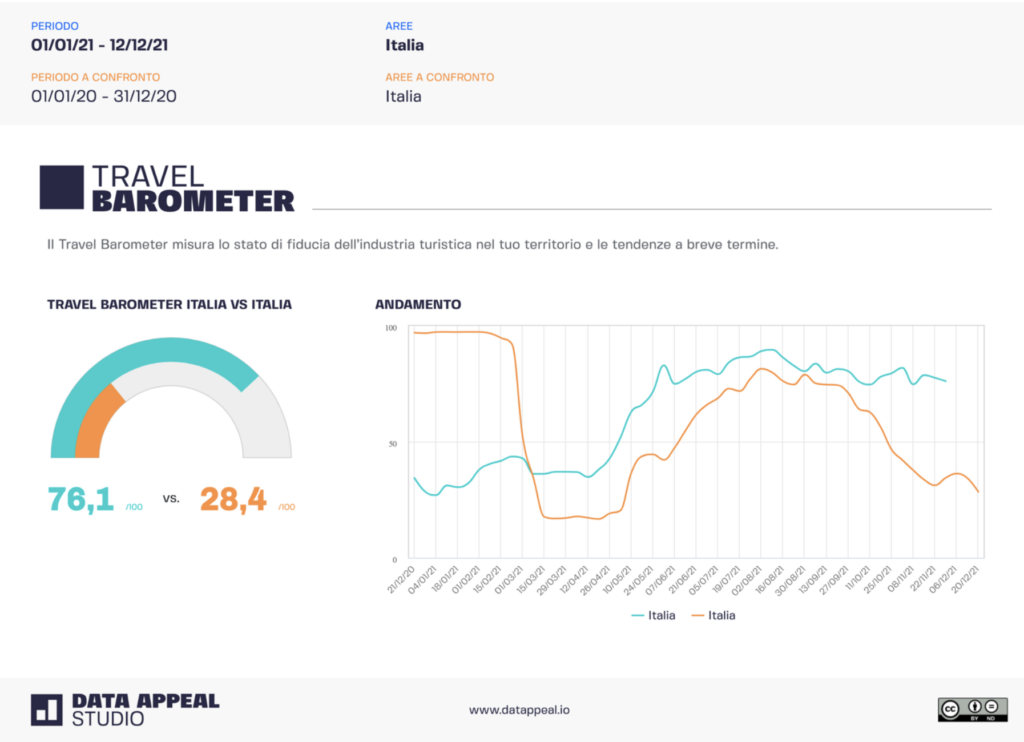 There's no doubt that there's an abysmal difference between current data collected and the data from the same period last year. This is a direct result of Italy's immunization and health safety efforts, which immediately translates into confidence and an inclination to travel there. 
At the same time, it should be noted that Italy has been in a plateau for the last two months. While the demand and desire to travel to Italy is evident, there are still unpredictable factors related to the pandemic that should be monitored. 
Confirmation of this comes from the fourth and final indicator: flight searches and bookings provided by our partners at Sojern. 
Last-minute bookings are now common across travelers. In 2022, there's a concrete difference between searches and bookings. For example, April 2022 currently accounts for almost 4% of searches, but only 1.6% of bookings with major markets,  such as English and German, currently still on stand-by for purchase.
Flight searches (fig. 1) and flight bookings towards Italy from European Countries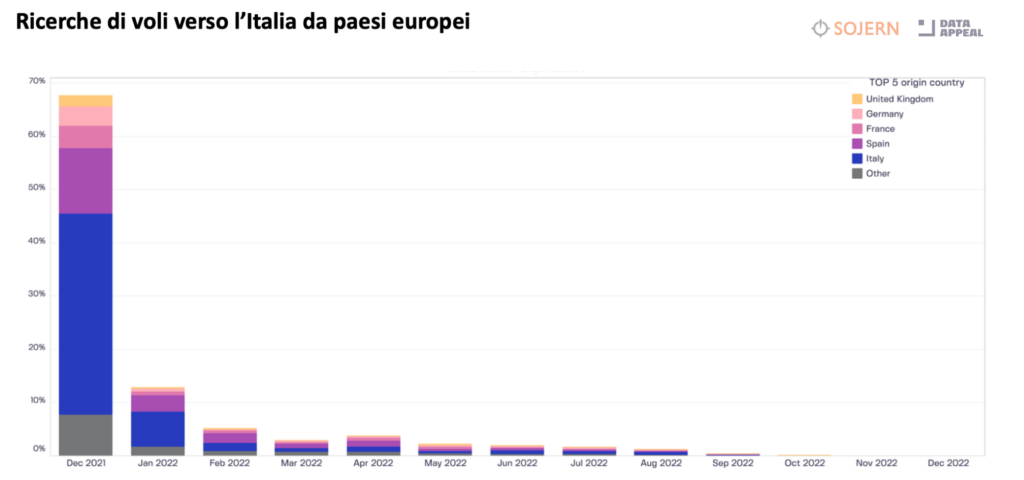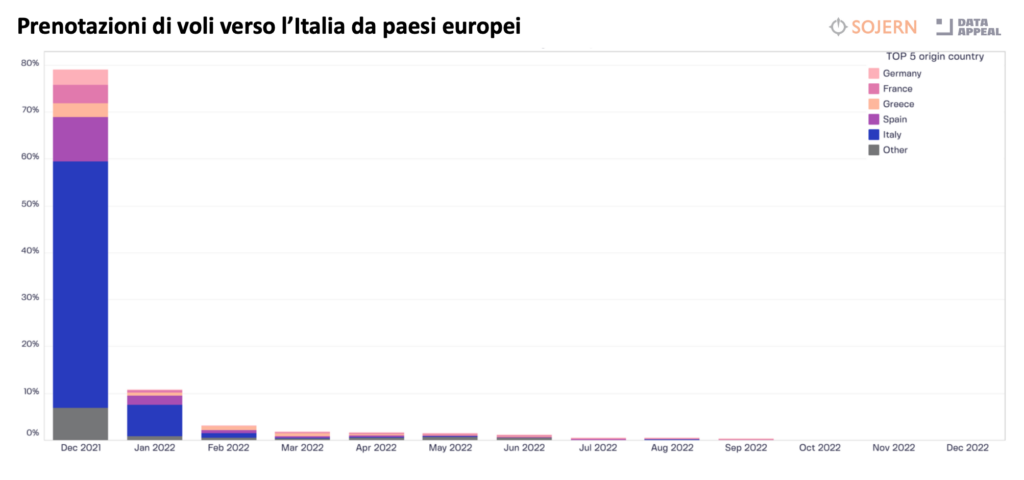 When looking outside Europe, it's clear that the North and South American markets have a strong propensity to travel to Italy. From May onwards, the United States leads flight searches to Italy, followed by Brazil and Argentina. 
Conclusions
Despite entering 2022 with a precarious Covid-19 situation, European travel, especially in Italy, has laid the foundations for a competitive 2022 and consequent growth of tourism. The travel industry is vital for the economy as it supports a broader economic growth for the coming years and enriches the overall sustainability and well-being.
Photo by Cristina Gottardi on Unsplash